I have this new - what's the word - obsession, with Ashley Tisdale. I don't know what it is, but I just adore her! She's so quirky and cute. She kinda reminds me of a younger, fresher (and hopefully drug free) Tammy Sytch, back in her "Sunny" days. She's a doll. AJ loves watching
Suite Life of Zack and Cody
every night, so I kinda got dragged into. Sadly, I even taped
High School Musical
tonight, and have my DVR set for tomorrow nights premiere of
High School Musical 2
. I guess I finally gave in to the hype. I'm even tempted to buy her
HSM
doll @ Target. I can't help myself!
PaperBackSwap.com
rocks! You can swap books you've read already (or books collecting dust) and earn credits to get books from other people looking to get rid of their old books - and it's all
FREE
!!! It's all good for me, because books cost an arm and a leg now-a-days. The only thing you have to pay for is shipping. So yea, if you love to read, then definately join the club, because who doesn't want free books!!!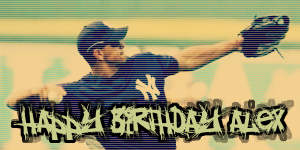 Maybe you can hit 500 on your special day!
Charlie and Lola
themed birthday party! I just found
this
and I want it sooooo bad. He adores them - I swear he knows every line to every episode. It is too cute. And he loves Lola. I swear he thinks he's going to marry her one day. haha.
I hope I can order those. I think they're in the UK. I hope it doesn't cost more that way. Hmmm. I've been really stuck for a theme for his party. It was either
dinosaurs
,
cars
, or some sort of
Disney
theme. But now I really want to do the Charlie and Lola theme. I know he would love it so much. ♥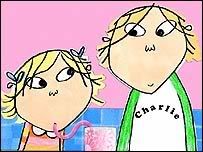 I am soooooo throwing AJ a
one
thing over and over and over again.
CHRIS BENOIT
. I just can't stop thinking about it. I really don't know why it bothers me as much as it does. OK, yes I do know why. He was someone whom I admired and respected in the wrestling business. He was one of the best in the business, and always gave 110% in every match. It was almost perfection. There aren't that many great technical wrestlers anymore - and he was one of the best. And now after all that has gone down. It just baffles me. I'm confused beyond belief. When I first heard he was dead (as well as his wife and son) I was in disbelief. I was sad, almost heartbroken. All I kept thinking was "how could he be gone?" He is the last person I would ever have expected to see die so soon before his time. .... Then all the facts (and rumors) came out, and my heart sank. Every emotion in my body change. It went from being sad, to being angry, hurt, upset, confused.... you name it, I felt it. And yes, it may seem bizarre, considering I didn't even know the man. But when you grow up watching wrestling - no matter whether you love or hate the guy - when they die, it affects you as if it were your best friend. You should have seen me when
Owen Hart
died. I was a wreck for the longest time. Of course, that's a completely different situation than this, since Owen shouldn't be dead right now.
I've heard a lot of crap from fans and non fans alike, and I feel the need to share my point of view on everything. The following is taken from my
MySpace
blog from last night:
I personally find it sad how fans can honestly stick up for a man whom clearly commited murder on his wife and child, and then on himself. It all points to him as clear as day. The fact that he called in because he couldn't make it to the events over the weekend... and then the suspicious text messages (which can be seen at wwe.com). Besides the fact that the deaths were spread so far apart. I mean, hello, RED LIGHT. I'm just as heartbroken as the next fan; but there comes a time when you need to break away and look at the situation as if it's just a regular Joe who committed this crime. You can say the facts aren't there or that he could/would never do such a thing, blah blah blah. But really, how do you know? You only know him as Chris Benoit the wrestler, not Chris Benoit the man. No one knows what goes on in that house when it's just him and his family. And yes, fellow wrestlers will say he loved his family; and no one is saying he didn't. But how many of them were really, truly that close to him, that they would actually know what went on behind closed doors? And if they did, I'm sure they wouldn't come out and say so. Sadly, only he knows what really happened. I wish this was all just a terrible nightmare, but it isn't. I don't know what was going on in his head at the time. But I can tell you this; to kill your own child - there's just no excuse. I think that's what hurts me more than anything. I just can't get any of this out of my head. This whole thing has been on my mind since last night, and it just makes no sense to me. I don't think it makes sense to anyone. I feel for his wife's family... and I feel for his poor little boy. But I don't feel for him. What he did was cowardly and wrong. I will never forget what he did. I will always admire Chris for what he did in the ring - but this incident is going to tarnish his legacy forever.
For the last 48 hours I've been thinking about
Screencap Paradise
Feel free to use as is - or add your own text. All I ask is that you follow
3
very simple rules

RULES

credit
d0rka
comment if taking
no hotlinking
made for
greys_chall
screencaps credit:
3
very simple rules




RULES

credit
d0rka
comment if taking
no hotlinking




Feel free to use as is - or add your own text. All I ask is that you follow